ù

Jee010
Corpus Christi "II" LP

Gothic and melanchonic, obscure yet traditional country/folk trio formed by American Banjo Player Sam Crawford along with local garage punk starlets Tina (also partly-responsible for the Intellectuals, Cokerocket, Felt Ups, to name but a few) and Cristina, off Jeetkune favourites Capputtini 'I Lignu, backed in this recording by Roman synth-wave 'enfant prodige' MUSHY and including multiple featurings by an all-stars selection of ladies (Sophia Travis, Julie from Crash Normal, Elodie "Momolamana", Miss Chain) bringing their contribution to what's probably the bravest Jeetkune release to date. Corpus Christi revisit some ancient-times classics in their own twisted way, sounding like Harry Smith's secret recording stash and resulting in a cartoon-like version of the Carter Family with a dark twist.
Jee009
Eyes Behind "La Declinaison" LP

After months of procrastination, that turned out to be definitely worth the wait, the debut 12"s lp by the Parisienne "spacey" No Wave three piece that everyone's waited for with eager anticipation has arrived. Recently joined by CHEVEU's own mastermind Olivier, Chinese crazy ass drummer Zaza and ex-Pussy Patrol front-girl Mariette deliver some classy Kraut-o-Funk Punk for your dancing pleasure. Strictly limited to 300 copies only, packed in beautiful 4 colour sleeve + 4 colour printed inner sleeve! Classy!

jee008
Intellectuals - In the middle of darkwhere LP/CD
LP 500 copies, 50 on red vinyl


CD 250 copies




The fourth LP by one of the longest-living punk bands in Rome. This one is the darkest, as the title suggests; an ode to the political and cultural decadence currently swallowing the Mediterranean. Here, our post-post-modern troubadours sing our dark times through nine tunes and five interludes that range from Black Flaggish brutality to Jonathan Richman melancholic playfulness. The little apartment punk interludes fill in the gaps between different states of mind and the result is like an half hour of no-stop descending in a creepy/fun Intellectuals theme park. As usual, the now stably four piece band (with the addition of Strasbourg little legend Cheb Samir, also in Jeetkune' fame artists Bobsleigh Baby and Caputtini 'I Lignu) delivers a milkshake of different sounds and atmospheres, although still dwelling in their tradition of loud punk attitude which peaks in short, fast, and wild anthems.It's gonna make you cry, laugh, dance, get in a fight, cry a bit more, and kick a can on the street at night.




jee007
Inutile - Please Tease 7"
7" 500 copies, black vinyl
Inutile, french for useless, heads from portland and it is made of two people and a fistful of machines, cogs, and buttons. Their sound is from the past future. Three songs about punishment, sexo and being totally out of it.
All of that in this cold merciless and tres chic way. Ryan from the epoxies and Cecilia from no talents/operation S fooling around on shiny black patent vinyl for the pain/pleasure of your ears.
jee005
Bobsleigh Baby "Bobsleigh Baby" CD/LP
LP 500 press, 100 on solid pink vinyl
My Bloody Valentine meets Country Teasers, with a touch of Morriconesque atmospheres, by 2 guys and 2 gals based in Rome, Italy. Equal parts French and Italian, and incuding our almost-omnipresent Cheb Samir (of Normals and Capputtini'i lignu fame), Bobsleigh baby is the epitome of the fresh, simple, garage-y yet artsy feel you can get in their commander-in-chief Bob Junior's "Fanfulla" club, in the heart of the legendary Pigneto neighborhood in Rome. An exhaustive manifesto more than a recording, it will satisfy both your post-punkish needs and your increasing hipsterism.
Jee006
Two Bit Dezperados "s/t" CD/LP
LP 500 copies, 100 on green vinyl
CD 500 copies
Female-fronted, Portuguese-sung, Os Mutantes-fueled, tropicalia-inspired, exotic and erotic psychedelic garage from half of Sardinia's garage legends THE RIPPERS and LOVE BOAT and a crazy Brazilian/Italian couple whose taste in music is well known to the underground garage scene thanks to a bunch of 7"s and tapes released under the revealing moniker of 'shit music'. Sit back, relax, get high on weed, imagine Rita Lee fronting the Detroit Cobras and you're halfway to getting the picture of what this record is all about.
Capputtini 'i lignu - s/t CD/LP
LP 500 copies, black vinyl
For those who have been wondering what the fuzz on this French Sicilian duo was all about, now it's the time to fully satisfy your unquenchable desire for raucous, primitive, traditional-yet-hypnotic "blues with a twist". Capputtini 'I lignu (literally "wooden jackets" in sicilian dialect) is the result of the encounter between a boy (the multitalented Cheb Samir from Strasbourg - already in a gazillion bands such as Crack und ultra eczema, Normals, Black souls of Leviathan, Two tears etc.) and a girl, the dangerous sicilian femme fatale Cristina (also in Corpus Christi). Proud children of the rising new art-punk scene in Rome, the duo fills this record with sin, obsession, death, Appalachian rituals, whiskey driven despair, throbbing passion and greasy Sicilian meat pastries. Dark in its American roots, but clearly an entirely European interpretation of our tortured days. Beautiful (!!!) exclusive cover art by Cheb Samir himself.
jee003
Black Mamba Beat - s/t CD/LP
LP 500 copies, black vinyl
CD 500 copies
Long awaited debut full length for this London-based South African trio, featuring mr Stix of Black Time fame. BLACK MAMBA (Dendroaspis polylepis) is an elapid snake and is one of Africa's most dangerous snakes. It has been known to arrive at parties and inject patrons with its venomous beer bite which causes people to headbang or shake a tail feather, the "fuck it, let's have fun" ingredient in the venom eradicates all pretense and pose. Ingredients of said venom include obsession with Minutemen econo ethics, Beat Happenin' beats, CCR and Mat's flannel. We walk like the lion!! We got the BEAT!?
jee002
Murder By Guitar - "MBG" LP
LP 300 copies, 60 on solid pink vinyl
Amazing follow up to their debut from a few years back, we are proud to announce that "MBG", second full length by the most promising post/punk trio you can think of will finally see the light on our beloved JEET KUNE. The most recent project by Martin Savage, also responsible for such legendary acts as The Blacks, Humans, Locomotions, Dixie Buzzards and ? of what happened in Sweden in the last decade (rock-and-roll-wise, at least). Filled with a lot of James Chance, Wire, Warsaw, funk, punk, pop and disco (yeah, that?s right) leanings but still definitely coming out of the garage.

As a fan said about it: "It's great , but no German labels are going to want to put it out".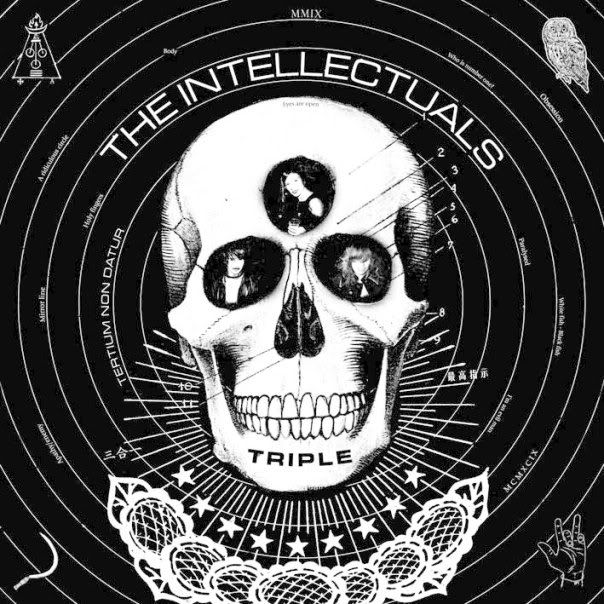 INTELLECTUALS "Triple" LP w/free CD

-- SOLD OUT! --
300 copies, white vinyl
Third full length from this long running Italian one-man/two-gals band and by far their better! Recorded at Toe Rag Studios in London by Ed Turner and featuring french garage rock legend Nick Normal on bass (Thundercrack, Squares, Normals among others), this is a pure assault of garage punk rock with dark melodies and twisted hooks. 11 tracks for fans of Lost Sounds, Cococoma, Intelligence, Black Lips, looking for a load of attitude and personality.